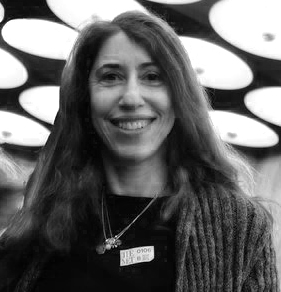 Madeline Schwartzman is a New York City writer, filmmaker and architect whose work explores human narratives and the human sensorium through social art, book writing, curating and experimental video making.
Her book See Yourself Sensing (Black Dog Publishing, London, 2011) collects the work of artists, interaction designers, architects and scientists who speculate on the future of the human sensorium through wearables, devices, head gear and installations. Her forthcoming book, See Yourself X: Human Futures Expanded (Black Dog Publishing, London, December 2017), looks at the future of the human head, using fashion, design, and technology to explore how we might extend into space, plug our head in, or make it disappear altogether. Schwartzman was the curator of See Yourself E(x)ist at the Pratt Manhattan Gallery, an exhibition in which eighteen artists explore the future of humans and nature. She was the curator of Objects of Wonder at the Beall Center for Art +Technology and See Yourself Sensing at San Jose State University. All three exhibitions are the result of her books, and her offshore brain: her See Yourself Sensing blog on Facebook.
She is a long term Adjunct Professor at Barnard College and a senior Part time Associate Teaching Professor at Parsons: the New School for Design, where she teaches architectural design, drawing, video production and time-based media. Schwartzman has received grants and awards for her work in film, sculpture and architecture, including a residency at the American Academy in Rome. Her films and videos have screened at festivals in the United States and abroad, most recently at the Ann Arbor Film Festival and an upcoming screening of her 16mm Campus Trilogy at the Morbid Anatomy Museum in New York City.